WELLNESS MASSAGES
A LARGE SELECTION OF FORMULAS
We offer many different massage techniques. They all aim to help you relax deeply. Discover everything we offer on this page.
PRICE GUIDE
DISCOVER
OUR STEAM BATH AND TREATMENTS
The gentle, humid heat in the steam bath unravels tension, inviting you to relax all your muscles. The steam bath offers many benefits to both body and mind.
STEAM BATH
MASSAGE BENEFITS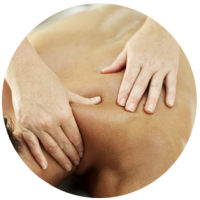 "Champ de l'être" offers a wide selection of massages from which you can choose. A few examples are the balinese, californian, chinese, and indian massages. We also offer "mother to be" and "baby" massages.
In our society and culture, we are not often touched. It may not even happen everyday. However, being touched is extremely important: we live, work and love with our bodies. Our bodies allow us to communicate beyond a verbal level. Despite cultural reticence, it is perfectly possible to include touch in an urban and western lifestyle.
All the different types of massages we offer are often linked to traditional culture and medicine from China, Thailand, Japan, India…). Please contact our team for more information.
A LONG HISTORY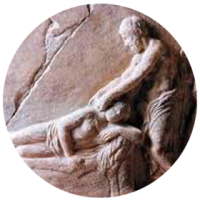 Massage is one of the most ancient forms of popular therapies, and has been used throughout history to heal the body and mind. For thousands of years, different types of massages have helped to heal and soothe illnesses.
Its occidental origins can be traced back to Antiquity, some 3000 years BC. Antique Greek and Roman doctors primarily used massage to heal and soothe.
The word "massage" entered the dictionary in the nineteenth century. Its meaning can be found in the greek "masseen", hebraic "mashesh" and arabic "mass", which mean touching, kneading, pressing lightly, and palpating. In India and throughout Asia, massage is a part of everyday life and represents a lifestyle, a special moment for relaxation. 

OUR MASSAGES
Find the massage
that suits to you!
Our team is there
to advice you.

THE "CHAMP DE L'ÊTRE" : 1 hour - 62 € / 1 hour 30 - 92 €
This deep and unifying massage is a moment of pure cocooning. Gentle and deep, it helps release tension. Enveloping, it allows your conscience to completely integrate a map of your body. Time seems to stop, your body is only feeling, the mind is silent… It's a complete escape! A massage for true relaxation.
THE BALINESE : 1 hour - 62 € / 1 hour 30 - 92 €
This massage is a harmonious composition of energetic and soft movements. The rich and varied successions (sliding pressing touch, smoothing, stretching) make this massage a coktail that is re­invigorating and soothing at the same time. A massage for full muscular and mental recuperation.
THE CALIFORNIAN : 1 hour - 62 €
This massage will allow you to discover the delicious feeling of warm oils with deep, fluid movements. A wave of calm and soothing will wash over you. Muscular tensions will unravel, the body is marvelously rested.
THE INDIAN (AYURVÉDIC) : 1 hour 30 - 92 €
The Abhyanga is a 1 hour 30 massage that profoundly relaxes body and mind. Its consecutive and deep rhythm revitalises you, stimulates blood and lymphatic flow, and mobilises toxins. For further "deap cleansing", treat yourself to the steam bath, where more toxins are released through perspiration.
"MOTHER TO BE" : 1 hour - 75 €
This deep and unifying cocooning massage eliminates tension and prevents increasing fatigue. A special and unforgettable moment for Mummy and Baby. This massage can be received from the beginning until the end of the pregnancy, and can be done in a lateral position.
FORMULAS "30 MINUTES" : 35 €
"Back" or "Feet" or "Hands" or "Head". This massage cannot be done in a duo.
"INDIVIDUAL" FORMULAS STEAM BATH + MASSAGES
♦ Discovery Getaway: 65 €
• Steam bath with kessa glove provided (45 mn).
+ Essential oils wellness massage (45 mn).
This massage can not be done in a duo
♦ "Shéhérazade" Formula: 150 €
A luxurious moment, just for you…
• Hammam (2 hours) in private with black soap scrub and rhassoul body wrap.
+ Argan oil wellness massage (1 hour).
A sweet snack is included
"GROUP" FORMULAS STEAM BATH + MASSAGES
♦ Formula "For Two"
• Basic : 50 €/person
Spend half an hour together in the steam bath, and while you enjoy a 30 mins wellness massage , your partner can lounge in the relaxing room with a cup of tea
• Luxurious : 108 €/person
«Pacha» Steam bath (2 hours) in private. Essential oils wellness massage (1 hour) in a duo. Tea and treats are included.
♦ "Tailor made"
Create your own relaxation program, adapted to your needs, to your budget, and to how many people you are.
Examples : bachelorette party, birthday, hiking group…

FORMULAS
Steam bath & wellness massages
Whether you are alone, or in group, treat yourself to our formulas for a uniquely luxurious moment.
A PROJECT IN MIND? CONTACT US!