THE STEAM BATH
TO RECHARGE YOUR BATTERIES

We invite you to a place that is entirely dedicated to your well-being. The steam bath and treatments formulas will ensure an unforgettable experience. 

PRICE GUIDE
DISCOVER
OUR WELLNESS MASSAGES
 
"Champ de l'être" offers different types of massages. They all aim to help you relax deeply. Click here for more information.
THE MASSAGES
A LITTLE HISTORY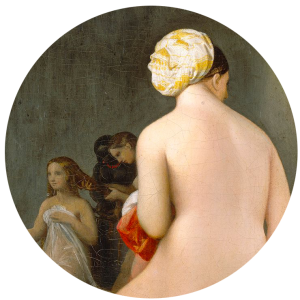 The origins of the steam bath are found in the antique Roman,
and then the Turkish public baths, which is why steam baths are also known as "Turkish baths".
Saunas were invented more recently, a few centuries ago,
in Scandinavian countries.
Their appearence differs:
•  In saunas, everything is made out of wood.
•  In steam baths, the surfaces are traditionally decorated with mosaiques, faience and marble.
STEAM BATH BENEFITS

The gentle, humid heat in the steam bath unravels tension, and will invite you to relax all your muscles. The steam bath offers many benefits to both body and mind:
• Deep cleansing: Opens your pores, eliminates toxins, dirt and bacteria through perspiration and prepares your body for the treatments. Your skin becomes soft and smooth. Feeling this clean will re-invigorate your body and soul.
• Relaxation: Your muscles relax and let go of tension, which will soothe your muscle cramps. Although it is not compulsory, taking a cold shower when exiting the steam bath can be pleasantly reinvigorating, and will get your blood pumping, which will help you let go of all stress and feel fantastic.
• Respiratory benefits: The steam bath unclogs your sinuses and helps you breathe better.
The diffusion of eucalyptus radiata essential oils creates a rich smell that purifies your body.
CONTRAINDICATIONS

It is important to be aware of the contraindications, and to take professional medical advice into account before booking a session.
• Heat exposure: Apart from the benefits, there are also risks that must be considered. The high temperature increases your heart rate, causes perspiration, and makes your blood vessels expand.
• Blood pressure:  Your body undergoes the same experience as when exercising.
• The steam bath is contraindicated to:  Those suffering from heart conditions, those who have hypertension or hypotension and have not seen a doctor, those with kidney failure, diabetes, or epilepsy, as well as pregnant women. The steam bath should be avoided in all of these case.
• In doubt: ask your doctor for advice. He knows your medical history, how healthy you are, and will give you appropriate advice.
WHEN COMING TO THE STEAM BATH: RECOMMENDATIONS
•  If you suffer from poor blood circulation, you may try to regularly alternate the hot bath and a cold shower to stimulate your blood circulation.
•  The intake of alcohol, drugs, or medication for blood pressure before going into the steam bath is not recommended.
•  Try to not go into the steam bath after a heavy meal, while you're still digesting.
•  If you are trying to quit smoking and are wearing nicotine patches, remove them before you enter the steam bath, as the increased blood circulation will increase your body's absorption of substances.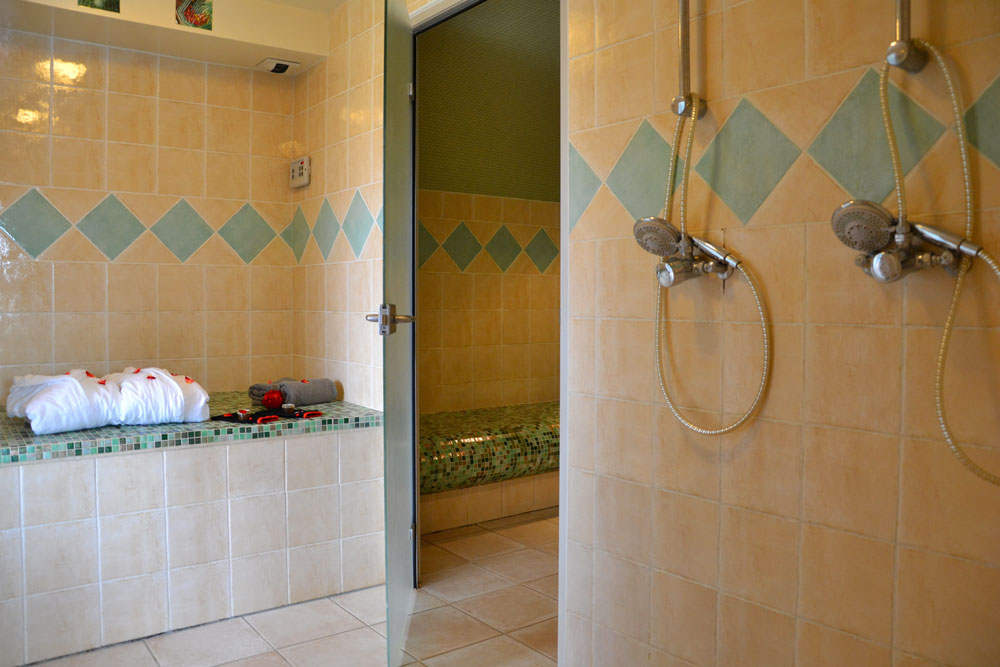 OUR FORMULAS
Enjoy the steam bath alone or with others, and discover our formulas that associate the steam bath and our massages. Please call us if you have a project in mind, or if you wish to be advised.
We guarantee that all the products we use are natural.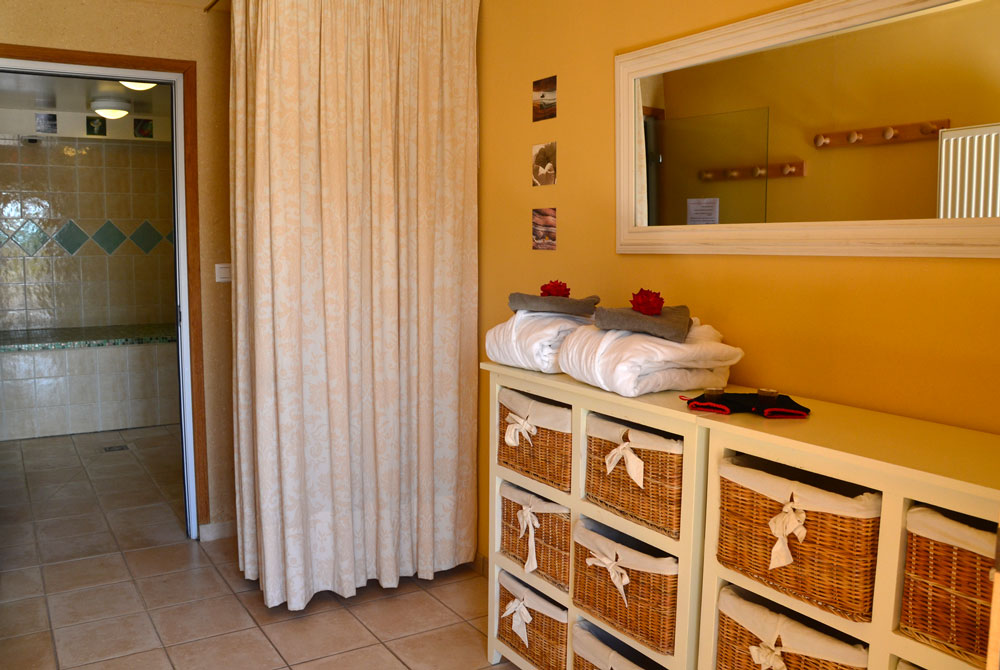 "PACHA" FORMULA - 2 HOURS (Tea is included)
♦  Steam bath 
• 23 €/person for 1 person
• 21 €/person for 2 people
• 20 €/person for 3 people
♦  Steam bath + black soap scrub 
and rhassoul clay body wrap
69 €/person
Bathrobes are provided. Acess to the relaxing room, where you can lounge in the deckchairs and enjoy a relaxing atmosphere. 
"ZEN" FORMULA - 1 HOUR
♦  Steam bath
• 16 €/person for 1 person
• 14 €/person for 2 people
• 13 €/person from 3 people (4 people maximum)
or
♦  Steam bath + black soap scrub
• 40 €/person
♦  Steam bath + rhassoul clay body wrap
• 35 €/person
"INDIVIDUAL" FORMULAS STEAM BATH + MASSAGES
♦ Discovery Getaway: 65 €
• Steam bath with kessa glove provided (45 mn).
+ Essential oils wellness massage (45 mn).
This massage can not be done in a duo
♦ "Shéhérazade" Formula: 150 €
A luxurious moment, just for you…
• Hammam (2 hours) in private with black soap scrub and rhassoul body wrap.
+  Argan oil wellness massage (1 hour).
Tea and treats are included
"GROUP" FORMULAS STEAM BATH + MASSAGES
♦ Formula "For Two"
• Basic : 50 €/person
Spend half an hour together in the steam bath, and while you enjoy a 30 mins wellness massage , your partner can lounge in the relaxing room with a cup of tea
• Luxurious : 108 €/person
«Pacha» Steam bath (2 hours) in private. Essential oils wellness massage (1 hour) in a duo. Tea and treats are included.
♦ "Tailor made"
You may create your own relaxation program, adapted to your desires, your budget, and the number of people your are.
For example : bachelorette party, birthday, hiking group…

AN IDEA: THE GIFT CARD
Treat your loved ones!
•
For birthdays, mother's or father's day, a new birth, retirement, christmas, or valentine's day…
A PROJET IN MIND? CONTACT US!

THE RELAXING ROOM
A place where calm comes first
• to prolong your moment of well-being after the steam bath or a wellness massage
• or simply to enjoy a moment of rest…
A PROJET IN MIND? CONTACT US!