The comfort of a large cottage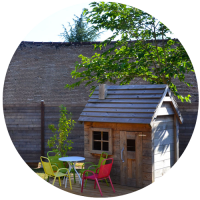 • Holds 20 people
• A large reception room
• A living room with a fireplace
• A large, fully equipped kitchen
• 6 rooms, with a private bathroom each
• A garden and activity fields
• DTT, WIFI
An ideal location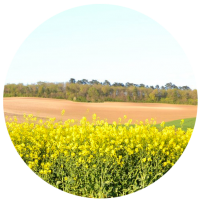 Our cottage is located in the centre of a village called La Croix-Saint-Leufroy. It is 55 mins away from Porte Saint Cloud (Paris), 30 mins away from the Claude Monet gardens in Giverny, 25 mins away from the archeological site of Old Evreux, and 25 mins away from the nautical base in Léry-Poses and Biotropica… Our cottage is surrounded by many well-known tourist sites.
In the village, you will find many shops and services (restaurants, butcher, caterer, baker, doctor, pharmacy, grocery shop, tobacco-bar…).
THE COTTAGE'S QUALITIES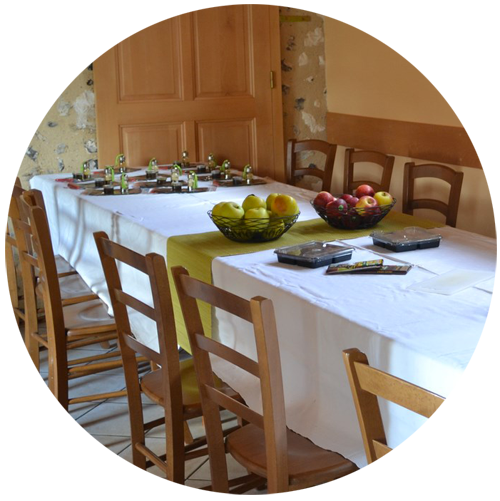 ♦ First floor
• A LARGE 53 m² (570 ft²) ROOM: a vast room where you can eat,
or use otherwise according to your needs.
• A 31 m² (334 ft²) LIVING ROOM: a place where you can warm up with a crackling fire in the fireplace.
• A LARGE KITCHEN: well-lit, and functionally organised. You can prepare your own meals here,
or even order your meals from a caterer from the village,
La Croix-Saint-Leufroy (see adresses on the SURROUNDINGS page).
• A ROOM WITH EASY ACCESS FOR DISABLED PEOPLE (see : ACCESS page).
Calm rooms ♦

Upstairs
Every room has its own bathroom, and a lot of places to tidy your belongings away
to give you more intimacy and help you feel more comfortable.
• 18 QUALITY BEDS – 2 TOILETS
– One room with 6 beds
– One room with 4 beds
– Two rooms with 3 beds (you may join these beds)
– One room with 2 beds
♦ Interior equipment
• Professionnal refrigerator, freezer, electric oven, cooker, dishes, microwave, dishwasher.
• Washing machine and drying maching available for those staying 7 days or more.
• Chimney, natural air-conditioning (Provencal well).
• Equipment for young children: toilet step, high chair, a food processor, baby bed, baby bath.
♦ the garden and outside equipment
When the weather is good, we offer a wide range of equipment so you can enjoy our big garden with a view on the landscape, or for activities on the field next to the cottage.
• Barbecue, garden table and chairs
• Games for children, slide, playhouse
• Pinpong table, bats, pétanque area (a French boules game), volleyball field, mini-football field
♦ MORE INFORMATION
• Private parking spots
• Disabled access
• A room on the 1st floor: with a double bed
• Equipped bathroom with toilet: right next to the room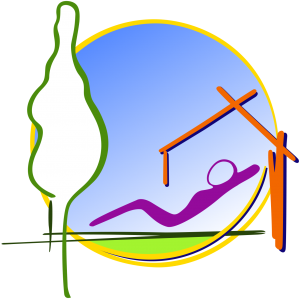 "Champ de l'être"
A cottage at your service
We adapt to your needs
• Family parties
• Countryside holidays or weekends
• Welcoming hikers
• Enterprise seminars & work meetings